Painkiller – karibiens godaste drink
|
Jag har med glädje noterat att de drinkrecept jag publicerar här är populära. Därför vill jag dela med mig av Karibiens kanske läckraste drink: Painkiller.
Ja, lustigt nog är jag tillbaka i Västindien igen. Det är till och med tredje gången på två månader som jag gästar ön Saint Martin. (Detta är taxfree-ön där till exempel en flaska Courvoisier XO kostar motsvarande 460 SEK, som kan jämföras med de 1099 SEK som den kostar hemma i Sverige.)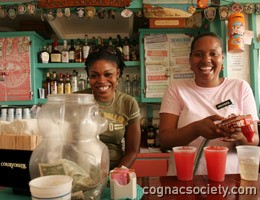 Muntra bartendrar på The Soggy Dollar Bar
En annan ö här i närheten som jag också besökt är Jost Van Dyke bland de Britsiska Jungfruöarna. Drinken Painkiller är uppfunnen för knappt 40 år sedan i den lilla strandbaren The Soggy Dollar Bar på Jost Van Dykes paradisstrand White Bay.
Hit till White Bay kan man inte ta sig med något stort kryssningsskepp, utan bara med mindre båtar. Stranden saknar brygga, vilket gör att alla gäster får vada eller simma iland. Att kundernas sedlar då blir blöta lär vara ursprunget till namnet Soggy Dollar.
Eftersom vi är i Karibien är det självfallet en romdrink och just här använder man sig av Mount Gay Rum från Barbados. Men det går med fördel att byta ut romen mot en ung VS cognac. Hennessy har exempelvis sin cognac Pure White, var främsta syfte är att ersätta mörk rom i romdrinkar.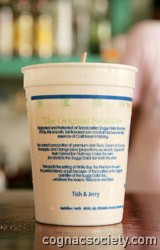 Även om ingredienserna är officiella, så hemlighåller man proportionerna. Koden är i alla fall knäckt och här är receptet:
Painkiller
6 cl mörk rom eller cognac VS
12 cl ananasjuice
3 cl apelsinjuice
3 cl kokosmjölk
riven färsk muskot
is
Blanda alla ingredienser, riv över muskot, skaka och servera i ett rymligt glas.