Oasis of the Seas ur ett cognacsperspektiv
|
Jag befinner mig nu på en kryss på det helt nya, gigantiskt stora kryssningsskeppet Oasis of the Seas. Detta är det största passagerarfartyg som någonsin byggts och det var en mäktig upplevelse att kliva ombord och mötas av ett helt samhälle med krogar, torg och parker.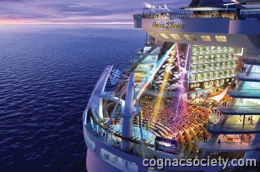 Royal Caribbean Oasis of the Seas
Det finns 24 restauranger och barer ombord, fler än i de flesta svenska städer. Fartyget har 20 däck och är 360 meter långt, vilket skulle göra det en rejäl bit höge än Eiffeltornet om man ställde henne på högkant. Oasis of the Seas tar totalt drygt 8000 personer inkl besättningen, alltså nästan fyra gånger fler än Titanic, och jag kan intyga att hon flyter minst fyra gånger bättre.
Rederiet Royal Caribbean International bjöd in mig att delta på invigningskryssningen som är fyra dagar lång och utgår från Fort Lauderdale, Florida. Jag skulle kunna rapportera om alla coola attraktioner som linbana, klätterväggar, vågsurfanläggningar, vattenshower, isrink, hiss-bar med mera, men denna hemsida är ju enbart tillägnad cognac.
Vilken av alla barer skall man då välja om man är sugen på cognac? Bäst cognacsutbud bland barerna har The Champage Bar på däck 5. I ljuset av skeppets stora och varierande utbud av attraktioner och restauranger så ter sig cognacssortimentet ganska blekt. Men det är ändå en hygglig spridning på kvalitet och pris. Såhär ser menyn ut:
• Courvoisier VSOP, 8.00 USD
• Courvoisier XO, 13.00 USD
• Rémy Martin VSOP, 8.50 USD
• Rémy Martin XO Excellence, 13.00 USD
• Louis XIII de Rémy Martin, 77.50 USD
För dessa priser får man en jigger, dvs nästan 4 cl. Eftersom dollarn i skrivande stund är relativt låg, är det bra priser sett ur ett svenskt perspektiv. Louis XIII de Rémy Martin är här egentligen bara hälften så dyr som den borde vara om man utgår från producenternas rekommenderade utpris.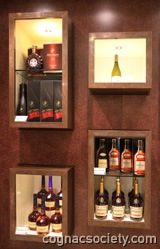 Taxfreebutiken ombord
Besöker man taxfreebutiken ombord på Oasis blir man glad. Kanske inte för blygsamma utbudet, men för de mycket låga priserna som i vissa fall bara är en tredjedel av vad det kostar hemma. Detta är taxfreebutikens cognacssortiment:
• Hennessy VS, 100 cl, 34.99 USD
• Courvoisier VSOP, 100 cl, 34.99 USD
• Rémy Martin VSOP, 100 cl, 39.99 USD
• Hennessy VSOP, 100 cl, 64.99 USD
• Rémy Martin XO Excellence, 70 cl, 109.00 USD
Hur mycket cognac går det åt till hummersoppan? Jag ställde frågan till svenska Seidy Söderholm som är Food & Beverage Manager ombord och har hela 1100 i besättningen under sig. Svaret är noll liter. Trots att det på menyn i huvudmatsalen Opal står att det är cognac i hummersoppan så använder de istället den billiga franska brandyn Marc Roger Napoleon. Av denna brandy går det åt 6-8 flaskor per serveringstillfälle. Men jag kan lugna alla att trots detta faktum är soppan utsökt.