Ingen skit i det blå skåpet!
|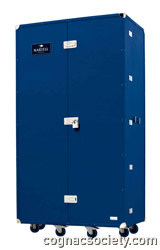 För drygt ett år sedan skapade Martell tio gigantiska blå koffertar som de kort och gott gav namnet The Martell Trunk. Nu har en av dem nått Sverige och finns att beskåda på Nobis Hotel vid Norrmalmstorg i Stockholm. På en pressvisning igår beskrevs dess bakgrund och några av trunkens funktioner.
Pjäsen är drygt 2 meter hög, 2,2 meter bred och väger 260 kg utan sina flaskor. När den är fylld innehåller den 37 flaskor av 9 olika sorters Martell, cognacskupor, cognacsprovarglas, ett bartenderset samt en humidor. På bästa plats, mitt i trunken tronar en flaska av premiumcognacen L'Or de Jean Martell i ensamt majestät (fast det lär vara en attrapp just här).
Syftet med projektet var att stärka kännedomen och upplevelsen kring varumärket Martell. Bakom designen står Pinel & Pinel som tidigare gjort motsvarande koffertar åt Apple, Krug Champagne, Lacroix, Paco Rabanne med flera.
Presentationen under pressvisningen leddes av Christer Hedwall som kallar sig livsnjutarkonsult. Han berättade att kofferten är en metafor för att visa upp det som skapar cognac. Lamporna sitter i kopparrör som ska symbolisera koppardestillatorn och ekdelarna ska symbolisera cognacsfaten. Varje liten detalj har en betydelse och övriga material som återfinns är silver, linne, läder och kristall. Det lär ta över tusen mantimmar för hantverkarna att bygga en trunk.
The Martell Trunk finns till allmän beskådan i Nobis Lounge fram till den 2 maj.